Bill Swan – Production Manager / Accounting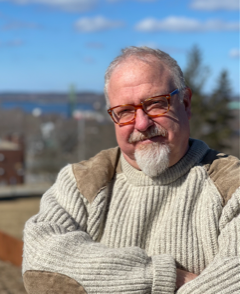 Bill Swan graduated cum laude with a Bachelor of Commerce from Saint Mary's University in 1987, and then completed an honours upgrade in Economics in 1992, during which time he worked in a number of positions in the local film and television industry.  In 1994 He returned he graduated from the University of Ottawa with a Masters Degree on Health Administration, after which he spent 25 years running national and international health associations, supporting researchers from around the world while running research conferences on six continents. Bill has published peer-reviewed research on Canadian health care and contributed to "A Prescription for Canada: Achieving Pharmacare for All," for the Federal Government of Canada. He sits on Health Canada's Scientific Advisory Committee on Respiratory & Allergy Therapies and the Patient Medical Advisory Board for Aqualitas, a Nova Scotia based certified organic medical cannabis producer. He volunteered with the board of the Asthma Society of Canada, the Patient-Centered Outcomes Research Institute in Washington, DC, and the Capital District Health Authority in Halifax.
After leaving the international conference business in 2016, a chance encounter at a Halifax coffee shop led to a conversation about Halifax bands from the era of the Halifax Pop Explosion with Ron Foley MacDonald and Paul Andrew Kimball and, ultimately, re-entry into local film and TV production.
With Winter Light, he started as a production assistant with the series Stand & Deliver, and then had his personal project, Faces of Pharmacare, featured on CitizeNS. He worked as production manager on the award-winning film, The Colour of Spring, and production manager and accountant for the TV series' Walkabout and NSK9. He is slated to continue his work on these shows as well as adding work on Haunted, Maritime Museums, and the new series, The Last Divide.