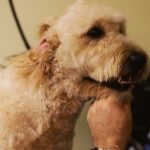 Episode 1: Working With Dogs
Premiere: January 20th, 2019
Liesje worked in an office. Chris was a submariner. Both left their jobs to work with dogs and found satisfaction they never could have imagined.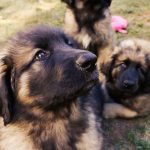 Episode 2: Choosing A Breeder
Premiere: January 27, 2019
Choosing a breed and a breeder can be an overwhelming experience. NSK9 talks to breeders about what to look for when choosing a purebred dog, and how to find the right match for your family.
Episode 3: Rescues
Premiere: February 3, 2019
Adopting a rescue dog can be very rewarding. It also comes with its own challenges. NSK9 talks to rescue organizations and owners of rescues to find out what you need to know to get a good match.
Episode 4: Running With Dogs
Premiere: February 10, 2019
Dogs are a great way to help get you exercise. Many people run with their dogs recreationally. Some even race with their dogs. We talk about running with dogs.
Episode 5: Therapy Dogs
Premiere: February 17, 2019
Dogs have become more than a best friend for many people. They provide comfort in times of trauma. There are even dedicated therapy dog teams that work with first responders across the region.
Episode 6: Working With Dogs Part 2
Premiere: February 24, 2019
Continuing from earlier this season, NSK9 visits more people who have found rewarding careers working with dogs.
Episode 7: Dog Shows
Premiere: March 3, 2019
Dog shows attract breeds of all kinds and people of all ages. NSK9 finds out what brings people to perform in dog shows, and what it takes to become Best in Show.
Episode 8: Taking Your Dog Along
Premiere: March 10, 2019
Increasingly people take their dogs to work and events with them. In this episode of NSK9 we find out why, and we meet some dogs who have found jobs of their own when their owners brought them along.
Episode 9: Prosthetics For Dogs
Premiere: March 17, 2019
When dogs anywhere in the world lose limbs or paws, or when their joints fail they turn to a Nova Scotian man who went into business to help dogs with prosthetics after a person experience losing his own leg in an accident.
Episode 10: Scent Dogs
Premiere: March 24, 2019
Dogs are known for their keen sense of scent. NSK9 visits people in one of the fastest growing sports in the dog world – scent detection. And we visit a dog and handler working at a major airport putting scent skills to work hunting for contraband.
Episode 11: Dealing With Grief
Premiere: March 31, 2019
Losing a pet is difficult. NSK9 explores the how people deal with the loss of a pet, and work done in Nova Scotia to remember our lost canine companions.
Episode 12: Nutrition For Dogs
Premiere: April 7, 2019
Increasingly people are concerned about what they feed their their dogs. We meet Nova Scotians leading the charge to make healthier options available for pets.
Episode 13: Farm Dogs
Premiere: April 14, 2019
Dogs have worked on farms for centuries. NSK9 visits people who are working to preserve the farm instincts in dog breeds, and others who have dogs on their farms in less traditional ways.
All episodes filmed on location in Nova Scotia.
NSK9 is produced in association with Eastlink Community TV.