Brad Cormier – Senior Audio Engineer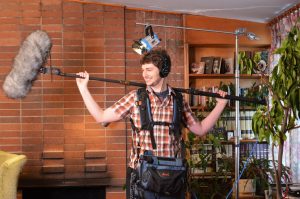 Originally from Cape Breton, Brad moved to Halifax in 2003 to attend St. Mary's University, where he graduated with a Bachelor of Arts degree majoring in Psychology. After a few years at the Nova Scotia Department of Health, he grew tired of working in an office and decided to try his hand at something new. He enrolled at the Centre for Arts & Technology/DaVinci College in Halifax in 2011, and graduated from the Audio Engineering program two years later.
Brad worked as an Audio-Visual Technician and Operations Manager for GroundSound A/V from 2012-2020. He's done location audio for productions such as the feature film Roundabout (2014) and the television series Stand & Deliver (2018),  and been a Foley artist for a number of films, including Exit Thread, Weirdos, The Child Remains, and Still The Water.
As part of the Winter Light team, Brad has provided the post production audio for all seasons of Haunted, NSK9, Maritime Museums, Stand & Deliver, Walkabout, as well as the Cinema 902 feature films Aliens with Knives, Creepy Crawling, The Last Divide and Shadow in the Mirror.